The Facebox™ ID Booth provides Passport and Driving Licence approved photographs. Photographs include the UK ID format (45mm x 35mm) and the US/India format (50mm x 50mm)

Facebox™ offers a variety of commercial models and hassle free managed services which includes onsite maintenance for hardware issues or remote support over a mobile network for software issues.

Facebox™ is a proven 'ultra small' footfall generator with integrated mobile technology, including notes and coins as payment options.

Our booths are the ideal addition to any high volume locations such as post offices, newsagents, shopping centres, supermarkets, airports, travel stations, universities etc. Their small size and visual appeal mean that the Facebox™ photobooth is suitable for almost any location, offering your customers easy access.

The Facebox™ photobooths are fully compliant with the standards issued by the Identity and Passport Service, meaning our booths provide quality approved ID photographs.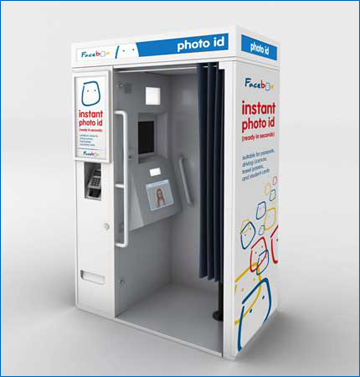 Fantasy World , 113 Cheyneys Ave, Edgware - HA8 6SD
Mobile: 07973 561514 | Email : support@face-box.co.uk | Marketing : mark@face-box.co.uk | Website: www.face-box.co.uk